What is a Placecloud event?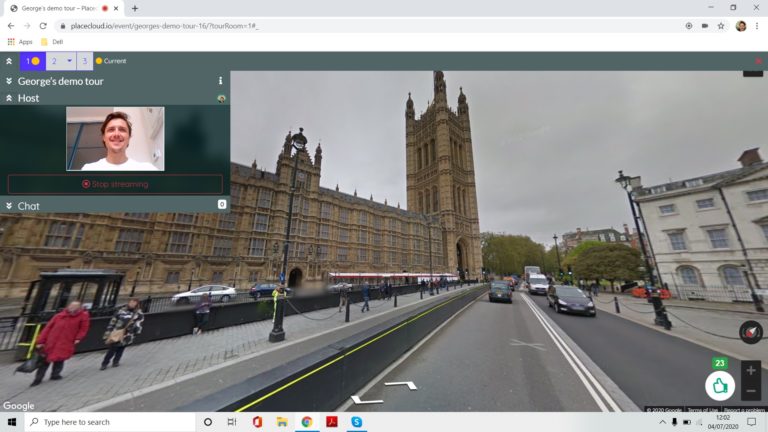 We run live events that we call 'street view tours'. They combine Google's Street View technology with a live video stream and interactive chat - an online group cultural city tour
Communism was a very intriguing time of 20 Th century. Most of the people from around the globe have a negative opinion. Well, if you talk to locals, you might hear some positive stories as well. I was born in sixties, went to elementary and secondary schools in seventies, studied in eighties and got a first job in communist times. I experienced some very challenging times and would like to share them with you.
On this tour
Exclusive

Slovenian Parliament

Slovenia was one of the six republics in Yugoslavia and had its own parliament. The socialist federative republic of Yugoslavia was unique and it gave a certain independency to its members. Here I would like to present to you its main policy and the way of life inhabitants lived. After our tour, you might understand better, why some people are - still today - longing for "good old days"

Exclusive

The monument to Yugoslavian Revolution

In 1975 in Yugoslavia, we celebrated a 30-ties anniversary of our revolution. What it meant to us and what we have achieved?

Exclusive

Twin towers

The central committee was the main body in the communist regime. The main buildings were usually right in the city center. However, the time has changed and not always happens what we have planned.

Exclusive

Department stores in Yugoslavia

We had some specifics in communism and shopping was quite unique. On the eastern part of Republic Square we have Maxi department store which is the oldest in Slovenia. With more than 8000 square metres it was one of the biggest and most modern ones in Yugoslavia. Goods were such a high quality that even Italians came to Ljubljana to shop.

Exclusive

Tomb of heroes

Communists wanted to be special all the time. Even berried were separately. The tomb is located underground, and a monument in the shape of a sarcophagus. In the communist times, there was not celebration without visiting it. Later, in modern times there were added some busts of politicians that were erased from communist public life, however they influenced the history and the fall of Yugoslavia
Mateja Kregar Gliha
Hi,
My name is Mateja (pronounced as Mateya). This is a female version of Mathew that we have in Slavic languages. I come from Ljubljana, the capital of Slovenia.
I finished my first studies in Yugoslavia (today's Slovenia is ex YU republic) at University of Rijeka, Faculty for Tourism and Hotel Management. Finished Bachelors of Economics. At that time, I started to work as a tourist guide for English and German speaking travellers as well. Later on, in the time of wars in Yugoslavia I went abroad to study or to work: Switzerland, USA, and Australia. In Australia, I studied at Swinburne University and finished Certificate of Business Administration. In Australia, I focused on eco-tourism (or today we would call it sustainable tourism). Since 1995, I am back in Slovenia. As independent entrepreneur had a tourist agency until 2000. Later on I got the license for tourist guide in Ljubljana and the region of Central Slovenia, Ljubljana Marshes Regional Park, Slovenian Istria as well as a license to guide in our National Museum of Slovenia. I am also a Destination Expert and Consultant at many fairs where Slovenia represents its treasures and for all business and individuals who would like to spend more time in Slovenia.
In between, I finished another Faculty for History focused on Cultural History and especially on the impact of women in the development of our capital Ljubljana in the period until the end of the WWI.
I am a WFTGA accredited tourist guide trainer, developer of different tours in Ljubljana (Ljubljana Food Tour, Our youth in communism, Sightseeing in Ljubljana by canoe, Ljubljana in Baroque time, Art Nouveau period in Ljubljana, Language- Literature- Identity tour, Ljubljana in the period of Reformation, …).
Virtual tours are new for me; however, I enjoy them very much: they give me opportunity to meet people from all around the globe and spread the world of our Slovenia and its heritage to all who cannot travel or who would like to get some insight before visiting us.