What is a Placecloud event?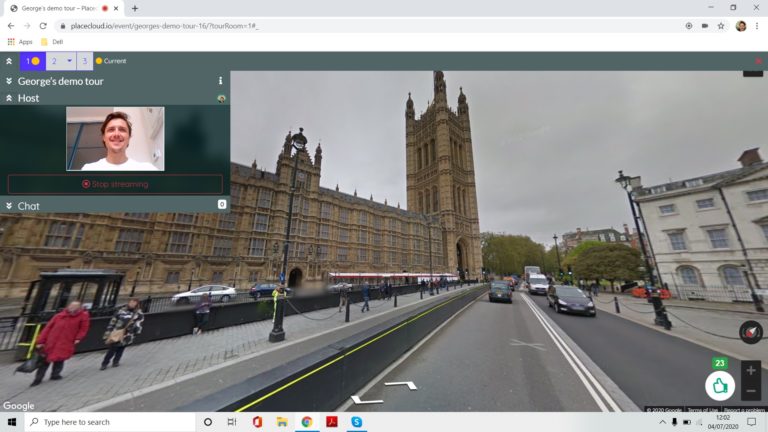 We run live events that we call 'street view tours'. They combine Google's Street View technology with a live video stream and interactive chat - an online group cultural city tour
LJubljana is a meeting point of three cultures: Slavic, we speak Slavic language, Germanic, we were a part of Austrian Monarchy till the end of the WWI as well as Italian influence, because of the trade. In this virtual tour we'll get familiar with city's center: Prešeren's Square, Three Bridges, Plečnik's Market, Cathedral, City Hall and our University Palace on Congress Square. The tour is suitable and a must for everyone who would like to know us better!
On this tour
Ljubljana, since 1991 the capital of independent Slovenia is a cute and vivid city. It is the meeting point of three biggest cultures in Europe. It is a mix of Germanic punctuality, an Italian or Latin romantic flair and a Slavic Melancholy. It is the city, where everyone feels welcome and homey. In 2016, it was the Green capital of Europe and sustainability is the key for a successful life in the city: for locals as well as visitors.

Exclusive

Prešeren Square

Locals meet on the main square called after the greatest Slovenian poet Prešeren Franc. Later, they decide, where they are going to drink a coffee or a beer together. The square has a star shape and all the streets in Ljubljanal lead to- the Prešeren Square.

Exclusive

Dragon's Bridge

St George is our city patron and dragon presented something bad, something from old times that people had to overcome. Throughout the time, we started to like our dragon and it became our symbol of the City. We have a green dragon in the coat of arms of the city and even soccer fans called themselves Green Dragons.

Exclusive

Farmers Market in Ljubljana

Every city has to have a farmers market. Ours in Ljubljana is opened every day except Sunday and it is very popular. The biggest choice is on Fridays and Saturdays, however, we have every day a chance to buy something fresh and direct from the farmer. Our notable architect Jože Plečnik decided to arrange it in a special way and we like it a lot. Come and join me, let us reveal Plečnik's ideas!

Exclusive

Cathedral ST Nicholas in Ljubljana

The river of Ljubljanica played an important role in people's life. St Nicholas as a patron of the city centre protected them when fishing and with river transportation. Today's Cathedral was built in the most flourishing time in Ljubljana –at the beginning of 18 century in a rich Italian Baroque Style. The inner part of the cathedral is decorated with frescoes and sculptures. There are two entrances, doors, which are unique: they were made of bronze by two local artists 24 years ago.

Exclusive

City Hall

Ljubljana's City Hall is small and pretty, same as the city. The oldest part was built in renaissance period, later, in baroque period it was made bigger and more distinctive. Still today the seat of our mayor and the city council.

Exclusive

University of Ljubljana

Slovenians got a chance to study in Slovenian language after the WWI. Today the biggest Slovenian university we have in Ljubljana. With its 23 colleges and 3 Academies is one of the most popular universities for exchange students as well.
Mateja Kregar Gliha
Hi,
My name is Mateja (pronounced as Mateya). This is a female version of Mathew that we have in Slavic languages. I come from Ljubljana, the capital of Slovenia.
I finished my first studies in Yugoslavia (today's Slovenia is ex YU republic) at University of Rijeka, Faculty for Tourism and Hotel Management. Finished Bachelors of Economics. At that time, I started to work as a tourist guide for English and German speaking travellers as well. Later on, in the time of wars in Yugoslavia I went abroad to study or to work: Switzerland, USA, and Australia. In Australia, I studied at Swinburne University and finished Certificate of Business Administration. In Australia, I focused on eco-tourism (or today we would call it sustainable tourism). Since 1995, I am back in Slovenia. As independent entrepreneur had a tourist agency until 2000. Later on I got the license for tourist guide in Ljubljana and the region of Central Slovenia, Ljubljana Marshes Regional Park, Slovenian Istria as well as a license to guide in our National Museum of Slovenia. I am also a Destination Expert and Consultant at many fairs where Slovenia represents its treasures and for all business and individuals who would like to spend more time in Slovenia.
In between, I finished another Faculty for History focused on Cultural History and especially on the impact of women in the development of our capital Ljubljana in the period until the end of the WWI.
I am a WFTGA accredited tourist guide trainer, developer of different tours in Ljubljana (Ljubljana Food Tour, Our youth in communism, Sightseeing in Ljubljana by canoe, Ljubljana in Baroque time, Art Nouveau period in Ljubljana, Language- Literature- Identity tour, Ljubljana in the period of Reformation, …).
Virtual tours are new for me; however, I enjoy them very much: they give me opportunity to meet people from all around the globe and spread the world of our Slovenia and its heritage to all who cannot travel or who would like to get some insight before visiting us.